Starbucks didn't ban guns in the U.S., but these places did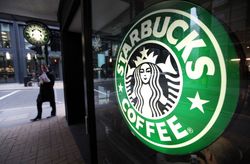 Hey, did you hear that Starbucks (SBUX) is banning guns in its stores?
If you did, you heard wrong. All Starbucks chief executive Howard Schultz did was politely ask customers not to bring loaded firearms into his stores or hold gun rallies or protests there.
No ban is in effect, and Schultz says employees won't confront customers who don't wish to comply with his request. Some of his exact words follow:
"Few topics in America generate a more polarized and emotional debate than guns. In recent months, Starbucks stores and our partners [employees] who work in our stores have been thrust unwillingly into the middle of this debate. That's why I am writing today with a respectful request that customers no longer bring firearms into our stores or outdoor seating areas."
Schultz is still taking heat for the request, which is odd considering the number of companies that actually ban guns in their stores outright. The Huffington Post ran a list of eight of them, and right at the top is organic grocer Whole Foods Market (WFM), which has banned guns in its stores since 2001.
Typical of some lefty, holier-than-thou fancypants, "Whole Paycheck" boutique market, right? Well, only if you ignore the fact that Whole Foods chief executive John Mackey is ordinarily a staunch libertarian who has pushed back on labour issues and called the Obamacare health care law "fascist."
Even one of Starbucks' direct competitors has a tougher stance on guns than its giant foe with 12,000 U.S. stores (and more than 1,200 locations in Canada). Peet's Coffee (PEET), which gave Starbucks' founders their first beans, doesn't allow guns in its stores or in its outside seating areas.
California Pizza Kitchen won't allow guns in its restaurants either, while growing beer, chicken and big-screen-TV casual-dining chain Buffalo Wild Wings (BWLD) has banned firearms in its establishments since 2009. If you're taking the kids to either Toys R Us or Walt Disney World or Disneyland (DIS), those establishments don't want your weapons on their grounds, either.
By those terms, Schultz and Starbucks are being comparably lenient in giving "responsible gun owners the chance to respect our request." Schultz notes that Starbucks has always worked in accordance with local law when allowing customers to openly carry firearms into its stores.
But recent events against Starbucks forced Schultz to reconsider. Among them were anti-gun petitions and protests — and a pro-gun "Starbucks Appreciation Day" in the Newtown, Conn., town where an elementary school shooting in December left 20 children dead, but was thwarted when employees closed the store for the day. Said Schultz:
"We've seen the 'open carry' debate become increasingly uncivil and, in some cases, even threatening. Pro-gun activists have used our stores as a political stage for media events misleadingly called 'Starbucks Appreciation Days' that disingenuously portray Starbucks as a champion of 'open carry.' To be clear: we do not want these events in our stores. Some anti-gun activists have also played a role in ratcheting up the rhetoric and friction, including soliciting and confronting our customers and partners."
In short, people brought this response on themselves and have continued to draw the company's ire by lambasting the nonbinding decision from both sides of the argument. Starbucks doesn't want its stores used as political pawns and, in a deviation from modern discourse, asked people to politely listen to reason.
When other businesses have abandoned that approach in favour of straight-up bans, it's difficult to sympathize with Starbucks' newly frothy coffeehouse critics.
-- Jason Notte, MSN Money