Canada's pension system is simply not doing the job, authors say
Political issues deemed too important or sensitive to be tampered with are often referred to as the 'third rail' after the electrically-charged third rail in subway systems ... like Canada's pension system, for instance.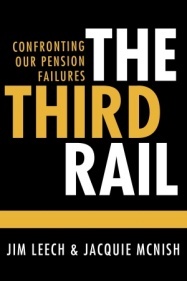 "Many Canadians will be surprised by how much they will need to save to fund their desired income in retirement and that their income is going to plummet," says Jim Leech, co-author of The Third Rail: Confronting our Pension Failures. 
"It's clear that existing pension structures are not allowing people to reach their saving goals. Political leadership is urgently required to bring a more flexible approach to retirement planning, one that can withstand the pressures of more retirees and longer life expectancy."
The easiest and most efficient way to close this shortfall is to enhance the Canada Pension Plan, he maintains. But that's not likely to happen anytime soon, since most workers and their employers are simply too short sighted.