The costs of being a gay couple
For years, gay activists have lamented the fact that same-sex couples shoulder health, legal and other living costs that heterosexual couples don't have to worry about.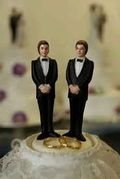 In Canada at least, some of this disparity has disappeared now that same-sex couples generally have the same social and tax benefits as heterosexuals in common-law relationships.

But, with all the election talk centring around a host of "family" tax credits, it's only a matter of time before someone starts revisiting just what constitutes a family unit and what that means in financial terms.