The only companies that will matter in the future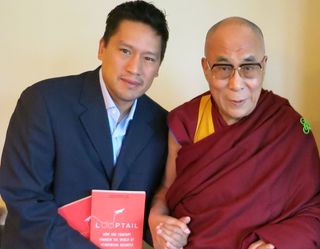 Bruce Poon Tip, founder, G Adventures, tells MSN.ca what he thinks it takes for someone to be a successful entrepreneur:
In my book, Looptail: How One Company Changed the World by Reinventing Business (a New York Times and Globe & Mail bestseller and available now at all book retailers and at www.looptail.com), I write about the importance of community, culture and karma in business and challenge entrepreneurs and companies to look at how they are doing business through a different lens. It is possible to be profitable and purposeful in business today. The only companies and brands that will matter in the future are those that make people's lives better. 
Excerpt from
Looptail
:
Think back to the beginning of every successful entrepreneur's story. Without exception, they all start with having a great idea and then deciding to defy the odds and start a business. In nearly every case, that person's family and friends tell them they're nuts, they can't get a bank loan, and people constantly remind them that 50 per cent of businesses fail in the first five years. Wouldn't it be easier, and less risky, to go work in an insurance company? Of course it would, but what distinguishes entrepreneurs from everyone else is their desire to take a risk and to hope that their passion will be what separates them from all the other people who start companies.When you follow the Looptail — finding your passion and purpose in your work and in your company, transcending your industry, and paying it forward — you are taking another risk. You are betting that following your passion and investing your work with purpose will lead you to success. How is that different from the risk an entrepreneur takes when starting a company? Neither is certain. But in order to be successful in the modern economy, you have to do what you believe in. Moreover, you have to do what other companies are scared to do — you have to stand for something. As companies get bigger, they start wanting to be all things to all people, and that notion of universal appeal takes hold and waters down the distinctive message. Freedom lies in being bold. The secret to happiness is freedom, and the secret to freedom is courage. And I believe that G Adventures has transcended our industry and created that incredible relationship we have with our customers, with our employees, and with the people who admire what we're doing.
It's a risk, but business is all about risk. There is a bit of karma in there because you have to really believe that if you get your business model right, everything else will fall into place. If you give, you get. What goes around comes around. The Looptail. I'm not asking you to stop thinking like a businessperson. I'm simply asking to look at your business, and your life, differently.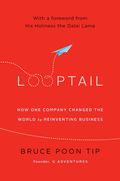 Excerpted from Looptail by Bruce Poon Tip. Copyright © 2013 by Bruce Poon Tip. Excerpted by permission of HarperCollins Publishers Ltd, Canada. All rights reserved. No part of this excerpt may be reproduced or reprinted without permission in writing from the publisher.