Hosting a guest in your home may be opening the door to trouble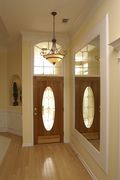 Hosting your home to strangers may be opening a whole new host of problems.
More and more Canadians are participating in home exchanges, hosting guests or even renting out rooms in their homes.
While this may give homeowners an extra little cash in their pockets or even provide an affordable vacation, it may also open the door to unexpected circumstances that are not covered by insurance.
According to statistics from Square One
Insurance
Services Inc., many Canadians are sharing their homes with guests through websites such as
Airbnb.com
,
Couchsurfing.org
, and
HomeExchange.com.
As a matter of fact, thousands of Canadian homes are listed on Airbnb.com including 2,487 in Vancouver, 2,338 in Toronto, and 6,330 in Montreal.
Daniel Mirkovic, president and CEO of Square One, says, "Home sharing programs can be a good way to take an affordable vacation or to earn a little extra income.
"But it's important to keep in mind that all home insurance policies have terms, conditions and exclusions."
It's best to check with your insurance provider before participating in home sharing programs to determine if there are any risks that you may be unable to insure.
Under home insurance, home sharing guests are considered boarders, roomers or tenants.
For instance, home insurance policies do not typically cover loss or damage to your guests' belongings while in your home nor any theft of your belongings while they are visiting.
As well, intentional damage to your home or belongings caused by your guests is excluded under most policies.
There are other provisions you may need to look in to including whether you need a separate entrance for renters.
Before opening your door to strangers, make sure you properly interview them, check their identification and references, secure damage deposits, check your insurance policy and require your guests to have their own home insurance policies that include personal liability coverage. 
By Donna Donaldson, MSN Money
Have you ever participated in a home exchange program? Have you ever any encountered any problems?