Don't fall prey to tax season scams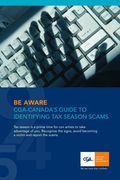 In 1789, the year before his death, Benjamin Franklin wrote: "In this world nothing can be said to be certain, except death and taxes."
If ol' Ben was alive today, he might modify his suggestion to: "In this world nothing can be said to be certain, except death and taxes and scams during tax season."
That's because a new survey by the Certified General Accountants Association of Canada (CGA-Canada) found that one in five Canadians -- 20 per cent -- are exposed to tax season scams.
Alarmingly, too, the survey determined that 54 per cent of Canadians don't know where to report these incidents of fraud.
As if the dreaded Taxman doesn't pilfer enough from our pockets each day, there are other sinister forces at work to steal your hard-earned money.
Anthony Ariganello, president and CEO of CGA-Canada, says, "Tax season is a prime time for con-artists to take advantage of Canadians, particularly younger adults who may have less experience with tax matters.
"It is important that Canadians know how to spot the red flags and where to go to report fraud," says Ariganello.
We would all love to save a few dollars when filling out our tax forms, but the temptation to save might be drawing victims to these scammers.
The survey found that three per cent of Canadians fall prey to tax-preparer fraud; another five per cent to identity theft; while four per cent are victimized by bogus charitable organizations.
And how about those telephone calls and emails offering tax help -- well, 11 per cent of Canadians are exposed to these telemarketing scams and phishing attempts.
Older is wiser it seems, as the survey found that Canadians aged 18-34 are more likely to be victimized (eight per cent) by a tax scam than those middle-aged 35-54 (four per cent) and seniors aged 55 and over (two per cent).
Nobody wants to mess with the Taxman so it's surprising to learn that 29 per cent of Canadians seek tax advice from relatives and friends; 18 per cent search for assistance online; and 17 per cent seek help from a professional financial adviser.
Count me in the minority there because I always have my taxes done by the same reputable accounting firm.
Statistics show that 18 per cent of us north of the 49th parallel either has lost or knows someone who has lost more than $1,200 in a tax season scam. 
To curb this alarming trend, CGA-Canada has developed a guide to help Canadians avoid being defrauded and to help inform them on where to report tax scams.
"The guide provides examples of scams, what to look for, and tips on what you can do," says Lorraine Pitt, vice president of public affairs at CGA-Canada. "Every year, Canadians lose millions of dollars to fraud. Prevention is the key to protecting yourself, your relatives and your friends from scams that can drain you of both time and money."
Benjamin Franklin would appreciate the help.
By Donna Donaldson, MSN Money
Have you ever fallen prey to a tax season scam?