Sandwich generation starting to feel the pinch
Caring for aging parents while managing their own lives is leaving many middle-aged Canadians stressed and stretched.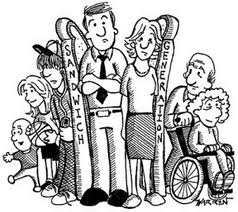 56-year-old financial planner Mary Ann Jenkins, for instance, is providing support for two children in their 20s and four parents in their 80s.
She and her husband spend at least $500 a month to support their children through school, she tells the Globe and Mail. They also spend a couple of hours a week doing chores for their parents, and are anticipating bigger shoes dropping, especially since her mother's heart attack in January.