Sandwich generation starting to feel the pinch
Caring for aging parents while managing their own lives is leaving many middle-aged Canadians stressed and stretched.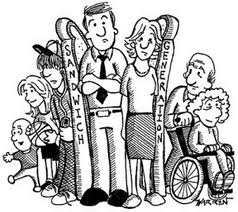 56-year-old financial planner Mary Ann Jenkins, for instance, is providing support for two children in their 20s and four parents in their 80s.
She and her husband spend at least $500 a month to support their children through school, she tells the Globe and Mail. They also spend a couple of hours a week doing chores for their parents, and are anticipating bigger shoes dropping, especially since her mother's heart attack in January.
And they're clearly not alone. 10 per cent of baby boomers with children also provide some type of support to their aging parents,
according to research from Investors Group
. Those providing financial support are spending nearly $500 a month on average, and a quarter of them are reducing their retirement savings to cover those costs.
These members of the "sandwich generation" are typically between 35 and 55 years old — meaning they're not only caught between the pressures of their kids and their parents, they're also balancing careers.
Some of these Canadians are stretched so thin, they're risking their own mental health — and a survey released this summer backs up the idea that many are feeling the strain.
This time, 13 per cent of respondents said they were helping their parents with their domestic and psychological needs, while many were also chipping in financially.
Of those helping with their day-to-day and emotional needs, nearly half — 47 per cent — said it was a significant source of stress. Of those helping financially, 78 per cent said it was extremely stressful.
Caught in the middle? You might want to look at Family: The Compact Among Generations, by James E. Hughes Jr. Hughes is an old pro at helping families get a handle on what's important to them. Most of his clientele are wealthy, but even average-earners can benefit from his experience.
Sound familiar? Are you struggling to look after aging parents while balancing work and family? How are things going so far?
By Gordon Powers, MSN Money