Canadians losing sleep over finances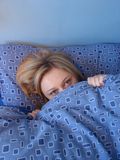 Life happens.
And with it, so do unforeseen hardships.
That's why it is always good to be proactive and have a plan.
A new report by BMO Wealth Institute reveals that while many Canadians have a financial plan in place, very few have considered what would happen if unexpected life events arose that could cause financial hardships.
The report, entitled The Biggest Life Events That Can Derail Your Financial Plan, outlines the top potential unforeseen life events that can keep people awake at night due to the stress of not having enough money to cope with them.
For instance, 84 per cent of Canadians polled believe they would face a major financial setback in the event of a disability; and three-quarters said the death of a spouse or a separation or divorce would have a negative impact on their financial situation.
In addition, another 60 per cent believe they are financially unprepared to deal with major life events such as retirement, declining health or the death of a loved one.
The report found that men are more likely than women to worry about being financially secure for retirement and also loss of employment; while women were more concerned about their health or the health of their spouse.
Chris Buttigieg, Senior Manager, Wealth Planning Strategy, BMO Financial Group, says, "A financial plan can be very helpful in ensuring you are well prepared for life's milestones such as buying a house, saving for a child's education, and retirement.
"However, one of the biggest mistakes individuals make is not stress-testing that plan against unforeseen events that can cause financial derailments."
That's why working with a professional financial advisor -- who understands the potential impact these adverse events can have -- can help you develop a practical and proactive plan to give you peace of mind, adds Buttigieg.
It's better to be safe, than sorry.
By Donna Donaldson, MSN Money
Do you have a safety net in place? Do you worry about adverse life events that could possibly take a toll on you financially?