Dust off your finances with a little spring cleaning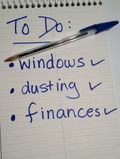 As soon as the temperature begins to rise after our long, cold Canadian winter, we tend to get a little more motivated to tackle some much needed spring cleaning around the house.
Washing windows, scrubbing floors, organizing closets, wiping and dusting are all an important part of the annual ritual.
However, there is one extra item that you should add to your household spring cleaning "To Do" list -- your finances.
Personal finances sometimes need a little spring cleaning themselves to sweep out any unnecessary expenses and to help lower your household debt.
Su McVey, Vice President, BMO Bank of Montreal, explains that spring is a time for renewal and preparing for the upcoming months.
"Now that the demands of the holidays are behind us and tax season will soon be coming to a close as well, Canadians should take the time to assess their current financial situation to ensure they're still on track to meet their short- and long-term financial goals," says McVey, adding that reviewing your priorities regularly is a necessary part of keeping your financial house in order year-round and will help you build a more secure future. 
So how can you tidy up your financial house this spring? Well, BMO offers some handy tips to help you get started.
First of all, review your household budget, track your spending daily and see what areas you may be able to trim back on. For instance, Canadians spend an average of $310 a month on items they want but don't necessarily need, according to the BMO Psychology of Spending Report. 
There are also several budgeting tools available online to help you track your spending habits. 
The next thing you need to do is reassess your short-term and long-term savings goals such as contributing to a Registered Retirement Savings Plan (RRSP) or a Tax-Free Savings Account (TFSA). Talk to your financial advisor about ways to build your savings by contributing regularly.
It is also important to revisit your overall debt repayment plan. There are many options available including consolidating high-interest debt into one easy payment through a lower rate product such as a Personal Line of Credit.
Once all the spring cleaning is done, we can relax and start to focus on -- well, spring!
By Donna Donaldson, MSN Money
Is there anything in your household budget that you feel you can tidy up this spring?