Trimming the little things can make a big difference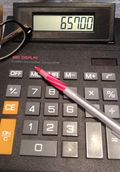 What if you made your morning coffee instead of heading to the drive-thru on your way to work? Crazy idea isn't it?
But is saving some extra money really so crazy?  Believe it or not, those trips to the coffee shop really do add up.
According to the Office of Consumer Affairs (OCA), if you save the $5 instead of buying that latte -- even at 1.5 per cent interest -- you will save about $5,500 over 25 years. Not too shabby, eh?
Just think about some other things you might want to trim that aren't absolutely necessary. Maybe it's the magazine you pick up while waiting in the grocery store line, lottery scratch tickets, the ATM fee, your morning coffee and bagel, or that package of cigarettes (ahem).
The OCA has a free handy online tool called My Expenses Calculator that lets you input your daily, weekly and monthly spending habits. After inputting your purchases it then shows you how much these items are actually costing you over time.
The calculator also shows you how much money you could be saving instead of spending your money on items that you don't necessarily need. For example, my large double-double coffee every morning is $1.80. According to the calculator, that translates into $12.60 per week; $54.75 per month; and $657.00 per year. Yikes!
This is a really good tool to give you an idea of your spending habits and, believe me, it is a real eye-opener too!
It's amazing to find out just how much those little items really add up over time. Maybe it's time to dig out the coffee maker from under the cupboard!
By Donna Donaldson, MSN Money
What do you think about trimming some fat from your expenses? Is there anything that you feel you can do without to save a little extra money?