New app rewards theatre goers for not texting during movie
Late in summer, an of-the-times news report came out of L.A., where one restaurant was trying to preserve the traditional dining experience, no matter the cost.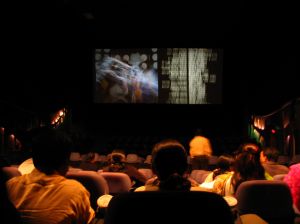 The eatery, a place called Eva less than ten minutes outside Beverly Hills, unveiled a promotion whereby diners were rewarded for checking their cell phones at the door.
Should they comply, patrons would be given a five per cent discount on their bills. At its core, this was a discount for not being rude, tapping or yapping away on a cell phone during dinner.
Even at the time, just a few months ago, it seemed like many businesses ought to follow, offering any kind of incentive possible for the severing of such public, unabashed cell phone use. One business, now, has followed.
Adding to the campaign against society's runaway cell phone use is a new initiative by Cinemark. The American movie theatre chain has unveiled a smartphone app that rewards customers for staying off their cell phones during a movie.
*Bing: What is the highest-grossing movie of 2012?
Inside Cinemark's smartphone app is a new program called CineMode. At the beginning of a movie, a flash will pop up onscreen suggesting users start their Cinemark app.
Next, they launch the CineMode feature within the app, which dims the smartphone screen and prompts users to put their phones on silent.
If CineMode is kept on throughout the entire movie – that is, the app hasn't been closed for text, talk or web browsing purposes – customers will be rewarded through coupons, either for discounted concession goods or money off future movie tickets.
Perhaps it's regrettable a company like Cinemark must resort to the very idea of CineMode in the first place, but such are the times.
When theatre chains are even batting around the idea of opening screenings to people that want to openly use their cell phones during the show, maybe CineMode's not a bad compromise at all.
By Jason Buckland, MSN Money