The $200 million Facebook paint job
A few years back, I did some painting for my father's company. Actually, it must have been more than a decade ago, come to think of it, but I was awarded at least a reasonable wage: about $12 an hour.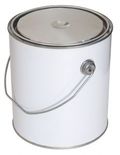 Pops, I was underpaid.
Indeed, the story that's making every California tradesmen weep today is that of David Choe, a painter who was hired by Facebook in 2005 to decorate its first headquarters in Palo Alto.
Okay, Choe isn't just a painter – he's a self-described bad boy graffiti artist – but his story is nauseating nonetheless. In exchange for decorating and painting Facebook's office six-plus years ago, he was given the choice of cash or stock in the company.
Well, guess which one he took.
Unless you've been living under Owen Wilson's nose, you've heard stories of Facebook's pending IPO, which has officially been filed. It'll begin selling some $5 billion of stock in May.
*Bing: What does 'IPO' stand for?
Certainly, the offering made many employees and investors in the social network rich, but the most remarkable tale belongs to Choe.
The 35-year-old, who was reportedly jailed as a youth growing up in a rough L.A. neighbourhood, painted Facebook's office in 2005, reluctantly taking stock as payment even though he thought the site seemed "ridiculous and pointless" at the time.
Though the amount of shares Choe was given hasn't been made known, they'll be worth an estimated $200 million when Facebook begins trading publicly later this year.
Choe hasn't commented on the IPO news – nor has it been confirmed he hasn't already sold off the shares – but surely this has to be the greatest case of paid labour since the no-show contracting jobs of Sopranos  episodes past.
In either case, the news will be some good PR for Choe's art career, which isn't exactly unknown.
The graffiti painter has done a Jay-Z/Linkin Park album cover, and his poster of Barack Obama is said to be hanging in the White House.
By Jason Buckland, MSN Money