Is Ontario's recent tuition fee subsidy a good idea?
At around $6,500 a year, Ontario has the highest average university tuition in the country. However, it looks like the Liberal government is going to make good on its promise to do something about that.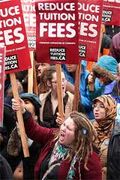 University students can save as much as $800 per term if their parents' annual income is $160,000 or less although those enrolled in college-level certificate or diploma programs will see only about half ($365) that.
This new grant is based on the average undergraduate arts and science university and college tuition in Ontario -- which translates to roughly a 30-per-cent reduction for about 310,000 Ontario college and university students.
However, if you're enrolled in graduate school or going part-time you can forget about the grant. Same goes for anyone who's been out of high school from more than four years. Click
here
for more specifics.
Now for the good news ... The government has integrated the grant application process into the current Ontario Student Assistance Program (OSAP), meaning that students who're eligible will  be receiving their money without having to apply or submit any new information.
Long term though, organizations like the Canadian Centre for Policy Alternatives argue that high tuition fees are disproportionately affecting low- and middle-income families, a regressive policy that's making it harder for young people to afford a decent education. Here's an interesting 'then and now' comparison.
Quit complaining, says columnist Randall Denley, who describes the latest tuition cut as "like winning the lottery" and says students should be grateful that "they just managed to squeeze into the last car on the irrational-spending train."
Despite this temporary subsidy, are tuition fees still too high? Or should students be expected to shoulder escalating costs given a massive provincial deficit?

By Gordon Powers, MSN Money