The mystery of the $100 million ATM receipt
The great thing about the Internet is, it allows more room for mystery.
For instance, there's a cool story floating around the web right now about an ambiguous ATM receipt found in the Hamptons last month. Who cares about garbage? No one, usually. But that changes when the receipt's available balance reads somewhere just shy of $100 million.
Fifteen, twenty years ago, such a story would've died. Maybe whoever found the receipt could've gotten a newspaper editor to run it, but maybe not.
Now, thanks to a tipster passing on a photo of the jaw-dropping transaction record to Dealbreaker.com, the Internet is abuzz with theories on identification. Just who could this anonymous, $100-million-in-my-chequing-account fat cat be?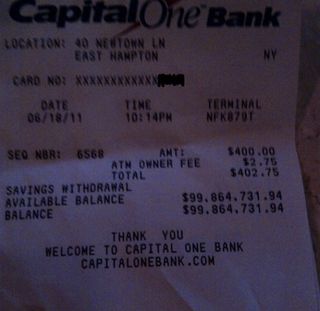 This bizarre tale all started on June 18, when an ATM user in ritzy East Hampton Village, New York, found a receipt hanging from a Capital One cash machine.
The slip of paper, which showed a $400 withdrawal, also showed something else: a remaining balance of $99,864,731.94.
Naturally, after the receipt was forwarded to business blog Dealbreaker.com, the web has exploded with speculation over who the hot shot is that's left his/her gaudy ATM records lying around.
The most likely candidate seemed to be Appaloosa Management boss David Tepper, who Dealbreaker claimed was the forgetful account holder.
But Tepper laughed off such allegations in the New York Post last week, saying he never was in the Hamptons in June.
Either way you look at it, it probably wasn't Tepper. What kind of successful hedge-fund manager would keep $100 million lying around in a low-interest chequing account, anyway? More to that, the Consumerist points out that only the first $250,000 of a conventional bank account is insured by the FDIC.
So that begs the following: what kind of person would be a) fortunate or savvy enough to amass $100 million in real dollars, yet b) leave it sitting in one lump sum in a (relatively) unsafe chequing account?
An heir? An heiress? No one knows yet. What we can say, though, if you look close enough at the receipt, is that not even $100 million in cash flow can save you from nagging ATM fees.
By Jason Buckland, MSN Money
*Photo courtesy: Dealbreaker.com