Who should get the Tim Hortons prize, the buyer or the drinker?
How can you tell Tim Hortons is at the absolute epicentre of Canadian culture and everyday life? 'Cause doctors even treat hospital patients inside the coffee shop, that's how.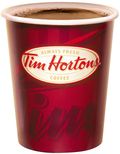 Indeed, while overcrowding led the Timmies in a B.C. hospital to double as a makeshift emergency unit this week, it isn't the only way the restaurant chain is invading Canucks' lives these days.
As you know, the annual Roll Up The Rim To Win contest is back underway and, as you know, there are big prizes at stake. And on the heels of the ongoing battle for a $50 million Lotto Max payout, it's tricky business when it comes time to split winnings between parties.
Colleague Gordon Powers ran a great feature last month about the Lotto Max case, which hinges on several Bell Canada employees fighting for their share of a $50 million payout. The lesson: it's almost always dicey when groups play contests or lotteries and they've got to divvy up winnings.
While that tale continues (a court ruling is still pending on $19 million of the $50 million jackpot), this same issue fits well with Tim Hortons. With the notion of "I'll buy this round of coffees, you get the next" at the heart of Canadian custom, what happens when someone's Roll Up The Rim To Win cup wins big? What if it's a flat-screen TV or even a car hiding under that rim?
Admittedly, this is an idea The Star covered this week, but it's too good of an angle to pass up here. If you buy someone a coffee and it wins, who rightfully owns that prize – the buyer or the drinker?
You might recall how complicated such a question was in 2006, when the parents of two Quebec schoolgirls got into a fight over a discarded Tims cup that'd won the grand prize of a Toyota Rav4 SUV. The first girl, 10, found it in a trash can, but brought it to an older girl to help roll up the rim. When they found the Toyota waiting underneath, it turned into a public legal battle for rightful ownership of the vehicle (Tims awarded the car to the 10-year-old's family).
The coffee shop rarely involves itself in such wrangling – "We don't get into discussions about how people manage their (contest) relationships," a Tims source told the Star – so it's often left up to us to decide who gets that prize, no matter who actually paid for the coffee.
Who do you think should claim the Roll Up The Rim To Win prize, whoever buys the coffee or whoever actually rolls up the rim?
By Jason Buckland, MSN Money