Limited edition steel Starbucks gift cards selling for $5K on eBay
Starbucks is to many what Tim Hortons may be to others, the ultimate in I've-gotta-have-this-right-now food and drink therapy.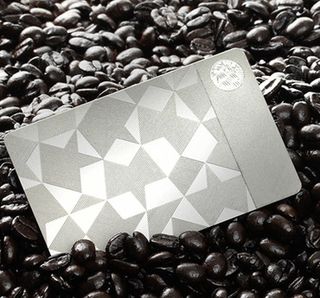 So how, then, can a company with an almost 100 per cent approval rate, a brand customers clamour over even in the worst of times, drum up newfound interest?
Here's how: it creates demand and prestige, all through a limited time offering.
That's what Starbucks has done with this $450 steel gift card you might have heard about. What you might not have heard, though, is that the things are so wanted they're going for up to five grand in resale now on eBay.
Starbucks' much-hyped steel gift cards went on sale last week, going for $450 on luxury site Gilt.com.
*Bing: What brands are consumers most loyal to?
The "exclusive" card, fashioned out of stainless steel, came pre-loaded with $400 in value, as well as perks like free refills on drip coffees and teas.
But the catch was this: only 5,000 were put into circulation, a not-so-subtle move by Starbucks to ratchet up demand for the novelty status card.
With so few cards on the market, coffee drinkers have responded, and while there's no telling what they'll sell for, the cards have been spotted on eBay with a starting bid of $5,000, reports the Consumerist. (Others can be had for just a little more than their asking price.)
Certainly, the steel gift card is the ultimate way to pump up your Starbucks standing.
They're not sold in Canada, but if Canadians manage to get their hands on one, they can be used here, according to a Starbucks rep.
By Jason Buckland, MSN Money
*Gilt.com photo