Just who is Conrad Black?
By my own unofficial poll, 95 per cent of Canadians know the name Conrad Black but just 10 per cent know his story.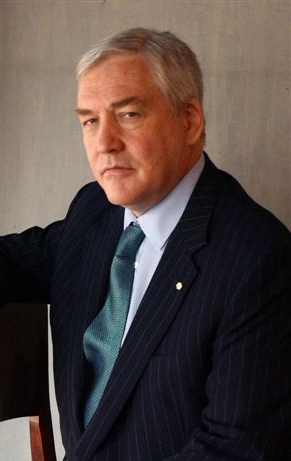 They know he's rich – er, was rich – and that he's some kind of white-collar crook. He was jailed in the States, and that's about all we're sure about.
Though as the ex-media baron is released from a Miami prison this morning, it figures today's as good as any to run through a quick primer on the disgraced Canadian.
Just who is Conrad Black?
Born in Montreal to a wealthy family, Black showed a penchant for business immediately, reportedly using his life savings at age eight to buy a $60 share in General Motors.
*Bing: More infamous white-collar crooks
In 1970, he earned his law degree from Université Laval, and later, in 1973, a Master of Arts in history from McGill. 
All the while, though, Black was investing in a number of businesses, most notably publishing. He bought his first newspaper in 1966 (Quebec's Eastern Townships Advertiser) and in 1969, Black and a group of investors purchased the Sherbrooke Record, and later a number of smaller Canadian newspapers.
Black's father, George, died in 1976, and while he took a director job with CIBC in 1977, Conrad's holdings began to grow. He paid $30 million in 1978 to earn control of Argus Corporation, a holding company once controlled by prominent investor Bud McDougald, an associate of Black's late father.
By 1985, Black shifted his business interests almost entirely to publishing. That year, Black invested in the Telegraph Group, which operates the historic British newspaper by the same name, and in 1990 he bought the Jerusalem Post. In 1994, his media empire grew when he acquired the Chicago Sun-Times. Four years later, Black saw to the National Post's founding in Toronto.
Black was known for flaunting his wealth, once buying a seven acre property in Toronto's primo Bridle Path neighbourhood, and he and his wives (he's had two) owned luxury homes and apartments in New York, Palm Beach and London.
In 2004, though, Black began his fall, having been accused of aggressively looting his own company, Hollinger International. From 1997 and 2003, Black charged Hollinger more than $500 million for his own personal expenses, including $15 million for private jets to shuttle him and his wife between their homes, and $11.3 million for presidential papers and memorabilia from the FDR administration.
In 2007, Black was convicted and sentenced to six-and-a-half-years in prison, though an appeal reduced his jail stint to 42 months. A legal technicality temporarily released Black on bail in 2010, though he later returned to prison on Sept. 6, 2011.
The 67-year-old is being transferred to a Florida detention centre for processing. His return to Canada is still to be determined. (Update: Black arrived at his Toronto home Friday, greeted by his wife, Barbara.)
By Jason Buckland, MSN Money