U.S. town nets $3,916.49 from saggy-pants fines
When it comes to fines and taxes – and we saw this Tuesday in the Dalton McGuinty point-off, er, Ontario Leaders Debate – we only discuss the negative.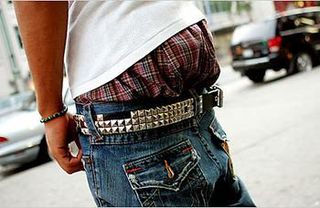 Forget that such money builds schools or fills pot holes or runs an afterschool program for Junior, it's coming out of our  pockets. This is unacceptable.
Well, here's a story where anyone that reads it's gotta say, "You know what? Those are public funds well-earned."
According to the Albany Herald out of Georgia, the city's new saggy-pants ordinance (once again: saggy-pants ordinance) has netted the town nearly $4,000 over the past ten months.
Yes, we're talking about the conservative U.S. south here, but for all we gripe about kids these days with their pants around their ankles, a few American cities have gone so far as to slap fines on droopy fashion offenders.
*Bing: More of the world's wackiest fines
Since Nov. 23 of last year, Albany, Ga., has fined first-time offenders $25 if their pants (or skirts, ladies) fall "more than three inches below the top of the hips, exposing … skin or undergarments," according to the Herald. Repeat offenders can be dinged as much as $200.
About 20 citations have been given out under the new ordinance, and the city's netted some $3,916.49 in cash for its general public fund. 
Albany gets a little leeway here for its controversial ruling since it allows offenders to perform community service if they can't afford their fine, but wouldn't you know it, more towns in the U.S. are actually considering their own "hike 'em up" policy.
By the measure of USA Today, cities in Florida, Virginia and Louisiana have already proposed saggy-pants ordinances of their own.
By Jason Buckland, MSN Money