Keep your coffee hot with magic thermal beans
We don't like to pimp too many products in this space, but every once in a while a new item comes out that must be discussed.
For coffee drinkers in Canada (read: everyone in Canada), what's your biggest obstacle, other than finding the nearest Tim Hortons outlet to order from and the nearest Starbucks customer to sneer at?
It's gotta be temperature, right? Too hot, you burn yourself. Too cold, your coffee tastes like Howard Dean sounds. Yet one new company, Coffee Joulies, is offering a solution. Meet the magical coffee beans.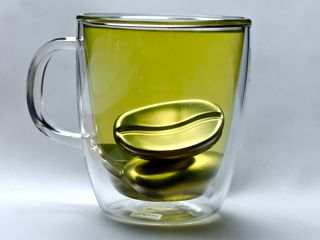 Coffee Joulies, as described on its site, are stainless-steel temperature control devices for your coffee, tea, hot chocolate or whatever.
The way they work is: you plop them in your scalding drink and they absorb the beverage's extra thermal energy to cool it down to a drinkable temperature "three times faster than normal."
"Next, they release that stored energy back into your coffee keeping it in the right temperature range twice as long," the product's Kickstarter.com profile reads.
If this sounds like a Dragons' Den  pitch, that's because it should've been. These insulating beans seem like a marketer's dream, and I suppose come relatively cheap ($40 for five reusable beans, with a carrying pouch) considering you should get a lifetime use out of the things.
And, at the risk of getting a little too frisky in our promotion of Coffee Joulies, which did not sponsor this post, FYI, the beans work even better in a thermos. The non-toxic material can keep coffee in an insulated mug at a hot, drinkable temperature for over five hours, according to the company.
So, there we have it. Make up your own mind on the Coffee Joulies, but they're also shippable to Canada and – if they perform as advertised – could be a great Mother's or Father's Day gift.
And that's it! Have a great weekend, everyone.
By Jason Buckland, MSN Money
*Follow Jason on Twitter here. Photo courtesy Joulies.com