Alabama adult store offers "guns for sex toys" promo
First, let's get all the innuendo out of the way: six-shooter; 9 mm; quick draw; itchy trigger finger; pistol whip; concealed weapon; shooting blanks; etc., etc., etc.
Feel better? Good. Me too. Now to the best consumer news of the day.
In line with other bizarre business promotions MSN counted down last November, an Alabama-based adult store is offering the deal of the year so far. "Pleasures," just in time for Valentine's Day, is allowing customers to trade in their firearms for sex toys.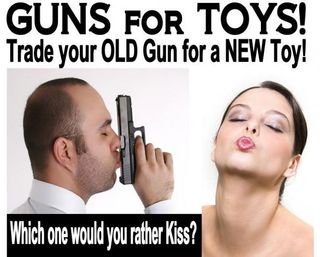 As you can see from the ad to the left, Pleasures is tackling the big-picture questions this February. In the gun-crazy U.S. of A., the self-billed "one stop romance shop" wants to know if Yankees would rather kiss their gun or something else on the 14th.
"What's that old Gun (sic) doing for you?" asks another ad for the promo on the store's website (warning: link may not be suitable for all readers). "At Pleasures we're trading guns off the street for FUN between the sheets! Simply bring your gun, in any condition, to Pleasures and receive a store credit equal to it's (sic) assessed value."
Indeed, the deal is very real. From Feb. 8-15, a bona fide "License Gun Dealer" will be on hand at the adult store, appraising weapons with the goal of collecting 300 guns by the end of the campaign.
Don't laugh at Pleasures. This is a weird promo, to be sure, but the business knows how to make headlines. Last autumn, news agencies picked up reports of the store's unorthodox drive-thru shop window, where customers could zip through and purchase all their hearts' desired without leaving the comfort of their car.
"Guns for toys" may not be as successful, but any way an Alabama sex shop can get mention in a modest Canadian money blog, we guess, has to be applauded.
By Jason Buckland, MSN Money
(*Image courtesy: MyPleasureStore.com)