Rent a Christmas tree? Sure, but not for $100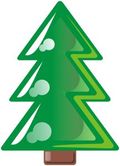 After Christmas, when you haul that tree out to the curb for pick-up, do you feel a tinge of guilt?
Remarkably, that's the question somehow driving a fast-growing industry in Canada: Christmas tree rentals.
Yes, unbeknownst to many, including this writer, there are services now across North America that offer Christmas tree rentals, hoping to capitalize on the green public's fear that using up a new tree each holiday is, as one insider tells the CBC, "the biggest waste of (the) resource."
According to a new feature in USA Today, Christmas tree rental agencies have been popping up across the western United States of late, but the biz has been progressing steadily in Canada, too.
At least two B.C. firms appear to provide the industry's backbone north of the border. The business surely makes sense on paper, but how practical is it?
Burnaby's Evergrow Christmas Trees charges $100 for a rental each year, including home pick-up and drop-off of the tree before and after the holidays. Once you're finished, the trees are then taken to nurseries and habitat restorations where they will be replanted, instead of turned into mulch as most recycled Christmas trees are.
And that, of course, is where the Christmas tree rental business hopes to make its bones. Conventional tree farms charge only around $25 for a real tree, but they're often used just once and then tossed away. Rental firms hope to tug on eco-friendly Canucks' heartstrings by ensuring the trees, after your presents are unwrapped from under them, won't go to waste.
Some companies in the U.S. even offer barcode scanning, advertising that, if you want, you can reserve your same tree the next year.
Honourable initiative? No doubt. Certainly, this will appeal to a big percentage of Canadians – and, we imagine, tree delivery and pick-up is something everyone would relish.
But that price point might be the thing that keeps rentals modest in Canada for years to come. By this poll, people simply don't want to pay $100 each year for a tree, especially when a fake, reusable one can be theirs for about the same price.
Green movement or not, would you ever pay $100 to rent a Christmas tree each year?
By Jason Buckland, MSN Money