Desperate Canadian couples turn to foreign surrogate mothers
For infertile couples, miracle babies are the joy of a lifetime, but they often come with a hefty price tag. More affordable surrogate mother candidates are beginning to be found overseas, however.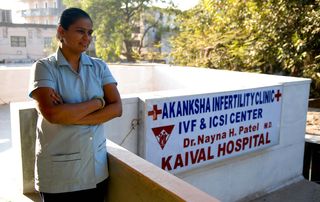 At Kaival Hospital in Ananad, India, women are lining up to carry babies for Canadian couples at a fraction of the cost, skirting Canadian laws at the same time.

Six years after Canada outlawed the buying and selling of human eggs and sperm and the "renting" of women's wombs, a new international baby-making business is flourishing.

While Canada's assisted human reproduction act prohibits payment for surrogacy, it doesn't prohibit couples from going to foreign countries for surrogacy or other fertility-related services.
The result is rapid rise in "reproductive tourism," a global industry in which more and more infertile Canadians are seeking fertility services abroad that would carry fines of up to $500,000 and 10 years in jail her in Canada,
the Ottawa Citizen reports. 
At the clinic in Anand, surrogacy costs $22,000 to $25,000 U.S., a fraction of the fees charged in the U.S., where surrogacy can cost $100,000 or more.
But while the service may be making dreams come true for some desperate couples, employing foreign surrogates is highly controversial, likened by some critics as the worst form of outsourcing and one that can potentially maim participants.
However, a recently-proposed law in India would only
permit a woman to be a surrogate up to five times and would set a 35-year age limit
. This is to ensure that women desperate to be surrogates can't put themselves at risk.
Dr. Nanya Patel, a pioneer in overseas in-vitro services, believes the service she provides is about local people helping people from abroad. Her impoverished surrogates enjoy good medical care,
take home a cheque equivalent to several years of work
, and the couples take home a baby.
Are these women being exploited or being given a new start in life? Would you travel across the globe and spend $30,000 to start a family? Should others be allowed to do so if they choose?
By Gordon Powers, MSN Money