Retrofit your toilet to dual-flush, save $100 per year
Let's all be grown-ups here: after a big meal, night out drinking or whatever, sometimes you're thankful your toilet has a powerful flush. This is fact.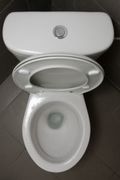 Yet as any boater ("If it's brown, flush it down. If it's yellow, let it mellow.") or home owner that pays their own water bill can attest, flushing a toilet a few thousand times each year can really add up.
So why not make the switch to a dual-flush bowl? Why not spend $30 once to save $100 every 12 months?