Does Canada need a cap on ATM fees?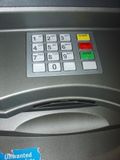 Anyone who's visited a bar, movie theatre or general tourist spot lately knows one thing: BYOC.
That's, "bring your own cash," because any of the aforementioned locales will have ATMs that levy some of the nastiest bank machine fees on earth.
With duties as high as $3 per transaction in Canada (has anyone seen higher?), paying to get your cash out is a costly affair – especially when you consider many banks double that fee on the back end if you use an ATM not recognized by your financial institution.
Is this fair? No, of course not. But could getting gouged at the ATM be something consumers actually need protection from? Protection as in, government protection.
You might've heard about a new piece of legislation making headlines south of the border these days. The proposal, led by Iowa senator Tom Harkin, aims to cap automated teller machine fees at 50 cents. In the States, I guess, fees can go as high as $5 per transaction.
As any sensible legislation goes, the initiative was unfortunately dashed by the U.S. Senate just last night, temporarily suppressing any relief American consumers were hoping to achieve.
But what about here, in Canada?
Lobbying for a cap on ATM fees is nothing new within Canadian government. NDP leader Jack Layton, for example, wanted a total ban of all ATM fees as recently as 2007.
Yet while that was (and is) a lofty goal, a more reasonable proposition might be a nationwide cap on ATM charges. Considering the cost for a bank to process an ATM transaction is just 36 cents, the 50 cent benchmark set by Harkin seems like a fair target.
Opponents to an ATM fee limit argue that, with greatly reduced profit margins in the ATM biz, the chances of consumers finding a bank machine would suddenly be few and far between.
With less opportunity to rob consumers blind, ATM operators would only post bank machines in high-traffic areas to offset the lower fees – meaning anyone living in rural areas might have to drive a little further to reach an accessible ATM.
In any case, though, that seems like a fair trade-off for lower charges. Have fewer ATMs around, but pay significantly less fees.
What do you think: are ATM fees too high? Does Canada need to cap them?
By Jason Buckland, MSN Money