Lipstick effect grips consumers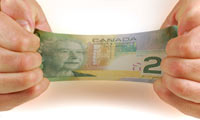 By Dawn Cuthbertson, Sympatico / MSN Finance
Wandering in and out of shops with friends on a sunny Saturday recently, I saw the lipstick effect at work.
Around since the Great Depression, the lipstick effect shows how women tend to shy away from expensive purchases during times of economic hardship. Instead, they'll splurge on a relatively cheap item like lipstick to make them feel better.
So while high-end retail stores and plastic surgeons report declines, cosmetic companies typically do well during recessions. Lipstick sales reportedly doubled in the months after the Sept. 11 terrorist attacks in the U.S.
In this instance, my friend knew she was in trouble before she got into the change room. In her hand was a beautiful spring dress with a $250 price tag. 
As expected, the dress looked stunning on her. But instead of justifying her way to the cash register, my friend left the dress on the rack.
"Could I not eat for two weeks?" she joked as we left the store. For us and many Canadians that live on tight budgets, that could be a reality if she went through with the transaction. After monthly expenses are covered, RRSP contributions are made and savings accounts topped up, there isn't much left over for extras - if any at all.
Following the trend of the lipstick effect, my friend treated herself to an accessory under $30 instead of buying the dress.
Later, we talked about how our spending habits have changed over the last six months with our new priorities. She has a wedding to save for, while I'm trying to save up for a property down payment.
Luckily I got an invite to an event this week that allows you to update your wardrobe without maxing out your credit card. Style swap parties require ladies to bring four items of clothing to trade in for other previously loved articles.
Now my friend and I just have to start digging. What spending "splurges" have you cut out?