Does Canada really need a stimulus package?
 By James Havers, Sympatico / MSN Finance
How times have changed.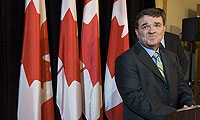 Federal Budgets were once very staid affairs, with the allure of the Finance Minister's new pair of shoes the only photo-op for journalists looking for an angle. That, and maybe an increase in the tax on a case of beer.
The Liberals' fundamental shift in the '90s away from deficit spending towards surpluses and debt-pay down drew a lot of attention, for a while anyway. But that became expected after a while, and hardly even newsworthy.
But no longer.
The current economic downturn, which is termed a catastrophe worse than the Great Depression or simply a recession, depending on who's speaking, has changed the game. In Ottawa, Parliament had to be prorogued because the opposition felt the Conservatives weren't taking the economy seriously enough.
The message came across loud and clear: Canada needs a stimulus, or else!
So here we are. In a recent analysis, parliamentary budget officer Kevin Page says Ottawa will rack up between $46 billion and $105 billion in new debt over the next five years, even without new stimulus spending in Tuesday's budget. The Harper government confirmed as much on Thursday, acknowledging a massive $64 billion shortfall over the next two years.
So much for all the sacrifice Canadians made to return the country to surplus. How's that line-up at the local hospital emergency clinic looking now? Ottawa is clearly in the mood to spend the country out of the downturn.
Which brings us to this: is a massive stimulus even necessary? The Toronto Star's David Olive pointed out over the weekend that stimulus projects are often reactionary, poorly planned out and, because of the geological pace of government manoeuvring, often arrive long after the economy has recovered under its own steam. Furthermore, because of the fact Canada's media is increasingly U.S.-centric, we've been forced to watch our neighbours to the south dig out from a banking industry collapse, the bursting of a housing bubble and, as a result, much deeper recession.
Does Canada really face the same challenges? The country's banking system has withstood the need for government bailouts demanded by its global peers. In fact, while Britain adds to its already $50 billion aid package to banks and U.S. measures to date in this area add up to almost $300 billion, the health of the country's banks only serve to underscore a growing divergence of Canada's financial institutions weighed against those from other countries. It's a good place to bank, no?
Furthermore, while the country's housing market is struggling, with home and do prices dipping between 4 and 7 per cent in the most recent quarter, many cities posted double-digit year-over-year price appreciations, according to a Royal LePage survey released on Monday.
A big stimulus package might jolt the economy. But the right wing Fraser Institute argues a similar effect would be had from tax relief, "unburdened by increased government debt in years to come."
Yes, the storm clouds gathering above should be taken seriously. But it's worth asking if our politicians are over-reacting by jumping on the stimulus bandwagon.