End of an (entrepreneurial) era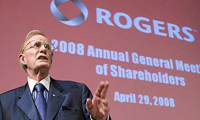 by Deirdre McMurdy, Sympatico / MSN Finance
On October 29, media mogul Ted Rogers was supposed to be in Ottawa for a Rideau Club reception in honor of the publication of his memoirs. Two days before that date, however, the event was cancelled with no explanation.
None was really necessary though. Mr. Rogers has had fragile health for years - and it was soon made public that he had become ill enough to be hospitalized. Again.
News of his death, while no surprise - even to him, based on his careful accumulation of executive talent to fill the inevitable breach - is nonetheless the poignant end of an era in Canadian business.
There just aren't a whole lot of Ted Rogers around these days: driven, stubborn risk-takers who don't buckle, bend or sell-out. He stared down nay-sayers and skeptics at least as many times as he convinced the banks that his staggering corporate debt deserved to be extended further.
Canadians have a direct connection with Mr. Rogers because -love and hate it - about eight million of us have cable television service. That has morphed into internet, land-line and wireless phones, and content, layers of technology that he envisioned and ultimately delivered.
Our domestic business environment is very different now and arguably, the same conditions no longer exist that allowed someone like Ted Rogers to persevere and flourish. Capital is more tightly constrained, talent is more dispersed, foreign ownership (though he operated in a protected sector on that score) is more accepted, strong personalities are less common.
Losing one of the true originals only makes that more apparent. And sad.