We would all like to have a swimming pool around our homes at some point in life, but it could get pretty pricey. Constructing a swimming pool does not have to be as costly as we think, if we take into consideration a number of factors. We are going to look at some of the ways to make a swimming pool job more affordable.
Wait on the Heater
Once you have your swimming pool installed, it is not advisable to go for a heater immediately. It is advisable to use the pool for some time so that you can get the hang of it and know what sort of heater would work best for it. There are pump heaters, and then there are gas and propane heaters. Some heaters come with chillers, components that also cool the water, while others don't. these heaters are expensive, and one would save a lot if they bought the right one to suit their needs.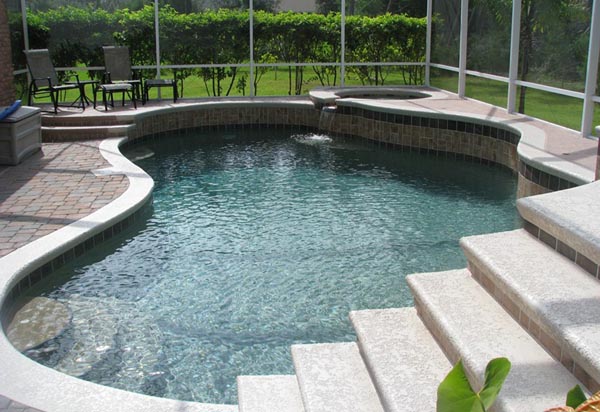 Add More Patio Later
When building a swimming pool, one of the most expensive things can be the swimming pool patio. When you're on a string budget, it is recommended to use only 3′ of a concrete apron initially, adding the additional patio later. Pavers are the best when adding the patio later since they integrate well with older patio structures and offer unlimited flexibility.
Size Isn't Everything
This is something that occurs over and over again, mostly dads wanting swimming pools that are as big as possible. In most cases, such pools happen to be out of their budgets. We need to get the size mentality out of our systems and go with the one that will actually work for us. The truth of the matter is that no matter what size the pool is, the kids will spend hours in the water without a care.
Plumb for the Slide or Water Feature
Just the same as adding a heater after a while, slides and water features are also things that can be added easily at a later as long as the plumbing for these units is done during the pool's construction. Such options might sound like very simple things, but the truth is that, to a person that is on a budget, they could mean something because they can actually cost more than $2,000.
Install the Cover at the End of the Season
These are the trampoline lookalike covers used to cover pools. Being that many people construct their pools in the early parts of the year, they can wait until the end of the season to have them installed. During the summer months, there is no use for covering the pool. This is an expense that can be delayed for a couple of months.
There are many more ways that one can reduce costs when installing their swimming pool, but above we have just mentioned a few. We are now going to look at a company that can take care of your pool installation.
Vasquez Pools
Over the past, Vasquez Pools have managed major pool renovations and pool building projects across the greater Houston area., with their focus on providing very high-quality craftsmanship at a fair price.  There are lots of swimming pools in Houston that were installed improperly by pool builders who likely lacked the experience or equipment needed and Vasquez Pools went to their rescue.
Swimming Pool Services
Pool Building
Building pools in the Houston area is what Vasquez pools were born to do, bringing joy to many families faces. They have the answers to all the client's questions regarding swimming pools in reference to thing like cost and the time to build. Before they begin, they check out things like style, features, area of town, ideal start date, etc.
Custom Pool Design
When Vazquez Pools creates a luxury inground swimming pool design, they understand that the client is investing in the aesthetics of their home. They also know that this is going to be a place where the client will enjoy time with their family, entertain guests, and of course swim! Custom pool design ideas come in all sorts of shapes and sizes that can be narrowed down to five distinct pool styles: Free Form, Natural, Vanishing Edge, Classic, and Modern. They have experience with all these designs and will gladly give the clients the pros and cons regarding any particular design in regards to the location and the sort of lifestyle that the client wants.
Swimming Pool Enclosures
Most people usually don't consider putting enclosures over their pools, but they do increase the amount of time that they can enjoy their swimming pool. Vasquez Pools make enclosures in all shapes, sizes, and designs to meet most budgets.  The first step is deciding on the pool design and dimensions. They will guide the clients through the process of installing the right enclosure.
Pool Renovation
There comes that time when the swimming pool needs some renovations to ensure the safety of family members and friends. One might also just want a new look for their pool with new water features, decking and many more. Vasquez pools are experienced with all of that and promise the best services at the right price.
Decks
Vasquez Pools have been designing and building the finest decks in the Houston, TX area for years, and they are always looking at ways of improving.  They have experienced deck building craftsmen that have worked with all the most popular decking materials.  The most common type of deck requested from them the rear deck or patio, but one can also consider a roof deck of some kind and that's something that they can do too!
Conclusion
A pool is something cool to have around your home if you live in greater Houston. Vasquez Pools are there to give you just the sort of pool that you're looking for. They design and build to the client's specifications without leaving anything to chance. If you want to add on that deck, they will gladly do that for you too. For the best Houston pools, Vasquez Pools is the way to go.