Time to think outside the hammock, author says.
Just think: every eight seconds, one more boomer turns sixty.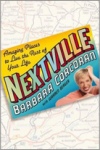 And, while that may signal trouble for some, most believe they're just getting started at this age. So instead of retiring, it's more like graduating. And that means moving away from home.
Moving touches every part of your life, however, and not all aspects are necessarily for the better.
That's why, if you're thinking about picking up the stakes and relocating in your retirement years, it's never too early to start planning, says author Barbara Corcoran in her book NEXTVILLE: Amazing Places to Live the Rest of Your Life.