Idiotic tales of the world's dumbest counterfeiters
At first glance, the bill you see below is a fine counterfeit, boasting the colour, texture and feel of a real $100 American note.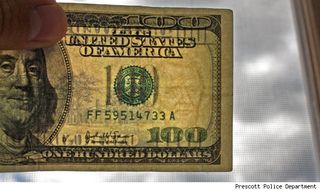 Though, wait a second. That's Ben Franklin in the centre, sure, but squint real hard and look to the right. See that watermark? That sure looks like Abe Lincoln, doesn't it?
Yes, that's the boondoggle one Arizona counterfeiter committed late last month, when he was spotted passing the bogus bills at three stores in the Grand Canyon State.
Cops never caught him, but police did end up getting their hands on these other dumb counterfeiters.
-- Again in Arizona, in 2005, authorities shut down a ring said to be responsible for 10 per cent of all counterfeit money in the state. How'd they crack the crooks? According to the Arizona Republic, the thieves were thwarted when they sent their printer out to be repaired … jammed with counterfeit bills. The repair shop reached out to police, and ten arrests were made.
*Bing: How to spot a counterfeit bill
-- Counterfeiting must be an exhaustive process of trial-and-error, tinkering and altering to get the best bill you can. But perhaps crooks ought to find a better way to dispose of their practice runs. Cops busted in on two Houston counterfeiters in 2010 when garbage crews reported large amounts of bogus money being thrown out right at their own curbside.
-- When passing bum cash, crooks better stick to the convenience stores and the mom-and-pop shops of the world. Instead, one California man in 2006 decided to pass off $9,800 in bogus funds right to the law itself. The 54-year-old, who was already locked up for identity theft, wrote the counterfeit cheque to bail himself out of jail. Investigators caught on, and the crook faced a further ten years in prison for his scam.
-- Of course, why fake a $20 or $50 or $100 bill when you can go for the big score? A man in North Carolina reportedly tried buying about $500 worth of goods with a $1 million bill at a Walmart earlier this year. It took so long for the cashier to come up with the right change that police arrived before he could leave.
*Prescott Police photo.