The economic impact of 'Fifty Shades of Grey'
The greatest products or services, like a rising tide that floats all boats, have been able to spark business success in its orbit.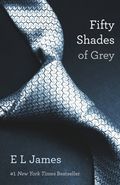 The iPhone, for example, hasn't just boosted Apple and changed the consumer tech landscape, it's also spawned countless cottage industries, like lucrative markets in cell phone cases and app design.
But could a book fawned over by horny housewives really do the same?
As it turns out, Fifty Shades of Grey  is having some kind of economic impact.
Indeed, in addition to causing heart flutters and hot sweats among middle-aged women, E.L. James' Fifty Shades of Grey  is of course a smash, breaking the torrid sales pace of even Dan Brown's The Da Vinci Code.
*Bing: What is the best-selling book of all-time?
Yet it isn't just James and publisher Vintage whose pockets are being padded.
Courtesy Business Insider, here are a few other businesses that are enjoying the Fifty Shades  trilogy's success:
1) Penguin: The book publisher has nothing to do with the Fifty Shades  trilogy, but it did publish a book in 2011 called Between Shades of Gray, a tome many have mistaken for the E.J. James novels, inadvertently improving sales.
2) Sex toy stores: Of course, the great theme of the Fifty Shades  books is hot, hot sex, and at least one shop, Babeland in New York, reported a 30 per cent increase in sales since the trilogy released. Visits to Babeland's, ahem, bondage website section are up 81 per cent in that time, too.
3) Brooks Brothers: In a nod to the first E.L. James book's cover, retailer Brooks Brothers has begun making marketing plays on its gray men's neckties.
4) Etsy merchants: Craft community site Etsy has cashed in on Fifty Shades of Grey, pimping out items like book-themed shirts, bumper stickers and handcuffs.
By Jason Buckland, MSN Money