How record skyscrapers often result in financial crisis
You've seen photos of the Burj Khalifa, right? You've seen the one that, angled just right, shows what a magnificent, preposterous, phenomenal ode to excess it really is?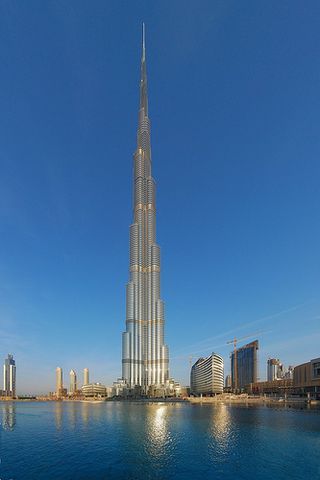 Indeed, there should be no topping the Burj, which soars 2,723 feet above Dubai, and even has a $217 million water fountain out front.
Key word in the above paragraph: should. In a bid to one-up the U.A.E. city's man-made beacon, the little-known nation of Azerbaijan, rich with oil profits, plans to put up the world's tallest building beginning late next year.
At 3,645 feet, the planned Azerbaijan Tower will become the world's tallest, but will it be good for the country? Let's take a look back at how other sky-high buildings affected the economic prospects of their hosts at the time of construction.
The spirit of this post comes from the Skyscraper Index, the theory put forth back in 1999 by economist Andrew Lawrence. Though it has been expanded on little in more than a decade, the thesis remains strong.
*Bing: Where does the CN Tower now rank among the world's tallest buildings?
So, in honour of the Azerbaijan Tower, which will be part of a new $100 billion man-made compound of islands connected by more than a hundred bridges, here's a look back at how other big towers have doomed economies past:
-- A three-year stretch from 1929-1931 brought the completion of a trio of iconic New York buildings, the tower at 40 Wall St., the Chrysler Building and Empire State Building. The latter towered over the other two at 1,250 feet, the world's tallest for more than 40 years, though all three opened during the first years of the Great Depression, which ran from 1929-1933.
-- Later that century, World Trade Center towers one and two opened in 1972 and 1973, respectively, and the next year the Sears Tower (now Willis Tower), then the tallest building in the world at 1,451 feet, was completed in Chicago. Thanks largely to oil embargoes that drove fuel prices to unprecedented levels, 1973-1975 was a period of global economic crisis.
-- The Petronas Towers in Kuala Lampur – the ones with that cool bridge that joins them – opened in 1997, and at 1,483 feet each are the tallest twin structures ever built. Shortly after, currency devaluation slammed the Asian market, launching it into an economic crisis until 1998.
-- Taipei 101 (1,671 feet, then the world's tallest) is completed in 2007, as construction on Dubai's Burj Khalifa churns on. The global recession hits soon after, and Dubai especially is launched into a crippling financial crisis. The $1.5 billion tower becomes the symbol for the collapse of Dubai, which is reportedly in more than $80 billion in debt just by 2009, the year before the Burj is set to open.
By Jason Buckland, MSN Money