Could cigarette warning labels actually be too graphic?
If there's one great debate we've had in this space, aside from the occasional musing over bad customer service or CEO bonuses, it's whether or not smokers get a raw deal.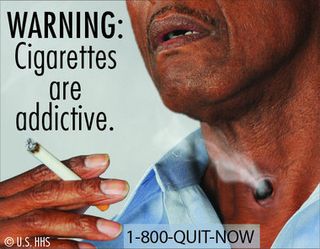 The arguments are simple, if somehow complicated, too: Party X, non-smokers and health advocates, believe that smoking leads to a preventable drain on society, largely through the need for universal health care resources. Party Y, in this case smokers, feel they are unjustly persecuted for using a legal product.
Both may be right at the same time, but it is Party Y that has most directly suffered, facing the wallet-lightening impact of higher tobacco taxes as well as the social scorn of being outlawed – if just for five minutes at a time – from any public gathering.
What we thought both parties might have agreed on, however, was those new warning labels on cigarette packs.
Party X, the non-smokers, gets to blow up huge images of rotting teeth, blackened lungs and billowing throat holes to try and spook smokers away from lighting up. Party Y, the smokers, gets to keep using cigarettes if they're unfazed by what might come.
*Bing: How much does the Canadian government make each year off tobacco tax?
In Canada, since our own graphic cigarette labels were introduced in 2000, the percentage of 15-and-over smokers has decreased big time, dropping from 24 per cent at the turn of the century to 18 per cent by 2009.
In the U.S., however, such labels won't be happening.
A district judge ruled Wednesday that cigarette makers shouldn't be forced to place large, obscene health warnings on their packs, under the premise the labels violate free-speech rights.
While educating the public about the dangers of smoking "might be compelling," the judge, Richard Leon, wrote in his ruling, "an interest in simply advocating that the public not purchase a legal product is not."
Certainly, this might be a fine case of a defendant – in this case tobacco makers, who were being ordered to put graphic labels on their cigarette packs under an earlier proposal by the U.S. Food and Drug Administration – getting off on a law's technicality, not its spirit.
By hiding behind a ruling of unconstitutional free-speech violation, which the federal government is likely to appeal, according to Reuters, tobacco makers scoot free by saying text warnings on its packs should be enough of a deterrent to smokers. In some ways, it may be.
In the meantime, however, it gives us a talking point: are cigarette warning labels too graphic?
To you, are the warning labels on cigarettes too obscene and too large? Further, is it the tobacco companies' responsibility to deter against using their own products, or should smokers be accountable for themselves?
By Jason Buckland, MSN Money