What do you make of Tim Hortons' new lasagna?
Where reviews are concerned right now, much of the world is pondering the fate of The Rum Diary  or last night's Game 5 of the World Series.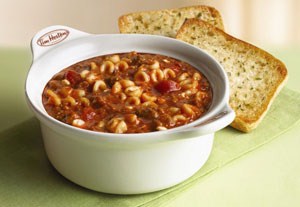 Canadians? Well, we won't stop until we've assessed one thing, above all: Tim Hortons' new beef lasagna.
Surely, as MSN highlighted Tuesday, much of the country is abuzz over the coffee chain's new menu add, which is either the greatest thing since McPizza or an ill-advised step from the franchise's comfort zone.
What do the initial reviews of the pasta dish say? Of course, they are mixed.
The most encompassing evaluation of Tim's lasagna to date comes courtesy the Financial Post, which sent its Investment blog team out to try the $4.99 pasta casserole.
*Bing: What is the best-selling fast food item?
"Ultimately, it tastes pretty much exactly like the pasta I make at home," opines Eric Lam, "which I suppose is as much an indictment of my cooking ability as it is on Tim Hortons'."
Adds the FP's Jonathan Ratner: "The portion size was adequate and the pasta was cooked properly, but it was more than a little light on the ricotta – one reason why the lasagna name doesn't hold."
Indeed, while MSN can't confess to having tasted Tim's new lasagna, the enduring theme from early Internet reviews is that a) the ricotta is skimped, and b) the ground beef is nice.
Still, it'll take plenty for the dish to make strides on Tim Hortons' menu, which – where lunch is concerned – is led by another ground beef-heavy meal, chili.
According to a CBC poll on the dish, while 29 per cent of respondents said they'd try the lasagna if it looked good on another customer's plate, a further 25 per cent replied, "No, what's next? Curry? Fried chicken? Stick to your niche."
Have you tried Tim's new lasagna? If so, how is it? If not, will you give it a shot?
*Photo courtesy Tim Hortons.