More older and educated people declaring bankruptcy
Times sure are tough across the border.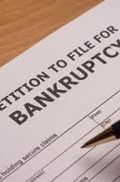 The number of Americans with advanced degrees filing for bankruptcy jumped 20 per cent over the last five years, the Institute for Financial Literacy reports. And the Canadian numbers show a strikingly similar trend.
More and more people over age 55 are finding themselves having to file for bankruptcy as a way to get out of financial holes and to help rebuild their lives. 
Older debtors, particularly those on a fixed income, run into financial problems, largely because their cost of living keeps increasing.
The U.S culprits include rising healthcare costs, lower home values, lack of a strong retirement plan, less funding from Social Security, as well as having to help sons or daughters out of a financial mess. Oddly, here in Canada, the latter seems to be the bigger issue, largely because of a stronger housing market.
Many in this demographic suffer from loneliness, particularly the bereaved. To compensate, some aging boomers opt for retail therapy or gambling which only adds to their problems.
What's troubling, of course, is that the whole concept of bankruptcy is about forging an economic fresh start. Tough to do when you're in your late 50s.
To avoid coming up short this way, boomers have to get out of debt earlier and start be honest with their  adult children, recommends bankruptcy trustee Douglas Hoyes.
Advise them that you have limited financial means, and therefore aren't able to help them financially.  Or, if you do decide to help them, only do so with cash on hand, he suggests.
Has bankruptcy touched you, your friends or family? Do you see this circumstance increasing as you or those around you grow older?
By Gordon Powers, MSN Money