Handling cash offers some relief from pain: study
Physically handling money works like a painkilling drug, maintains University of Minnesota researcher Kathleen Vohs.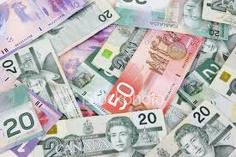 In her study, Vohs had one group of subjects count cash and another slips of paper, ostensibly to test their dexterity in handling the notes.

Soon after, she asked all the subjects to dip their hands in very hot water and rate the pain they felt. Those who had just counted cash claimed that their pain was significantly less than those who counted the paper.

In a related study, cash counters who were later shunned by others while playing a computer game felt less excluded than those who counted the greenbacks.
"In both of those experiments, we found that when people were reminded of money, otherwise painful events simply weren't so painful," Vohs says. "It's a robust and very strong finding."
Vohs's findings carry numerous implications, especially in the business world. For example, if a flight is delayed for eight hours, airlines typically give snarly passengers a voucher toward a future flight.
Vohs, however, suggests throwing malcontents a different bone
.
"My research would say that they would feel better — they would feel less pain — if they were handed cold, hard cash as opposed to a voucher," she says.
Vohs also thinks the pain-relieving qualities of money, which help generate self-sufficiency and self-worth, might even be of benefit to those often hurt in the dating world.
"We've been toying with the idea of giving men lots of cold, hard cash to handle before going into the nightlife scene, to soften some of the stings of social rejection that will occur when they're out on the prowl," Vohs says. "So, there are lots of different ways you can think about handling money and pain."
Has handling money ever helped you out this way?

By Gordon Powers, MSN Money