Holiday spending up this year, though not where it used to be: report
Every year, especially those since the recession started, the banks and market analysts go through the same song and dance trying to gauge holiday spending.
It may be a futile exercise – what consumer, really, can predict precisely what they'll spend for the holidays almost a month-and-a-half early? – but it is important to many. In 2010, most retailers need big holiday seasons to put them in the black. Being able to prepare, or brace for, upcoming shopping receipts is more vital than we'd think.
So, how will we spend this year? That depends on who you ask, though the consensus seems to be: we'll dish out more than last year, but still not what we used to.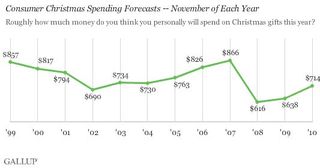 According to the latest, furthest-reaching poll from Gallup (see image), U.S. consumers plan to spend about $714 on average this holiday season. While that's a big jump from last year's number ($638) and a further increase from 2008 ($616), just take a look at that graph. In both 2006 and 2007, before the economy tanked, spending per person easily eclipsed $800 each year.
The proposed 2010 increase suggested in the Gallup poll, then, might at least be of some relief to retailers. Of course, again, who's to say such a rebound will actually happen?
In Canada, the results of holiday spending surveys are all over the map.
An Ernst & Young report says Canuck retail sales will jump between 2-3 per cent this year, yet they may be alone in their positive proclamations.
Both Deloitte and RBC suggest holiday spending this year could actually decrease  from 2009. Deloitte's results say 44 per cent of Canadians will spend less this year than last; RBC's study notes 31 per cent will do the same. By RBC's figures, a further 18 per cent say they can't afford to buy gifts at all.
Come December, which side will you be on? Will you spend more, less or the same on gifts this holiday season?
By Jason Buckland, MSN Money
(*Image courtesy: Gallup)