You're not as thin as your pant size suggests, survey says
For, say, anyone who's ever dieted, it's a defining lifestyle moment the first time you return to the mall.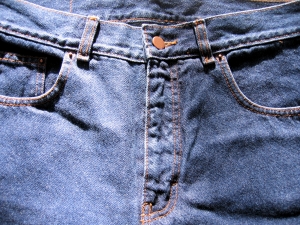 Following the gruelling exercise of shedding some pounds, here is your time for reward. Forty-two inch waist? No more. Let's grab a couple pairs of 38's and hit the dressing room.
Yet as that first pair of 38-inch jeans button without a fight, maybe your confidence starts to grow a little. Hell, could I fit into a 36 now? Am I that thin?
Perhaps. Though as a new eye-opening study has shown, no, you're probably not.
Esquire.com has just posted this bizarre-yet-understandable feature on the pant sizes of various major brands, and the results may be tough to stomach for all of our egos.
According to the site, which sent a reporter out to measure the actual waist sizes of pants sold at popular stores, you might not be nearly as svelte as you think.
By Esquire's numbers, brands like H&M, Calvin Klein and Gap have been fooling their customers all along – their advertised waist sizes being much, much smaller than they really measure.
Abram Sauer, who writes Esquire's Style Blog, found that H&M (whose 36-inch men's pant was indeed 37-inches), CK (36-inches = 38.5-inches) and Gap (36-inches = 39-inches) were actually the studied chains that committed the least-egregious size manipulation of all.
The worst perpetrators? Dockers, whose 36-inch pant really measures 39.5-inches, and Old Navy. According to Sauer, Old Navy is so disillusioned that its 36-inch men's pant boasts a 41-inch waist in real life. In related news, Old Navy announced today that Lady Gaga's meat dress at the MTV Video Awards last night wasn't all that ridiculous.
Apparently, style experts call this mis-advertising "vanity sizing." And, I suppose, it makes sense. If Joe Tubolard can fit into a 44 at Store X but nothing below a 48 at Stores Y and Z, why wouldn't he keep buying from Store X? They take his money, he takes their "Who is that, John Stamos?!" in-effect-compliment in stride. Lather, rinse, repeat.
Smart marketing, then, or are these not-so-white lies told by stores harmfully deceptive?
By Jason Buckland, MSN Money