Your finances and that dream car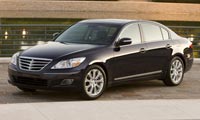 By Errol Muirhead, Sympatico / MSN Finance
I saw my dream cars this weekend at the Toronto auto show. I had the chance to see them up close and imagined myself behind the wheel of each and every one. I was in car heaven.
But there was one distinct aspect of all these dream cars that rudely awoke me from my blissful day slumber: the price tag. It was a rude awakening. They all cost a great portion of my mortgage and few wanted my first-born child and a part of my anatomy as down payment just so that I could make decent monthly payments.
Then I saw the AJAC car of the year, the Hyundai Genesis, the car that rivals the big names, but without the big price tag. If I didn't go searching for a badge, I would think I was back in car heaven and this was my best dream ever.
What is it about me that would drool at a Hyundai from afar and up close say, "oh, it's a Hyundai?" Am I that superficial that I would pay a minimum of $10K more for a badge with inferior specs? My wallet would appreciate the former, but my ego would relish the latter, even though I couldn't afford the badge. 
What is it about consumers that would have them assess these types of financial implications only to choose the less financially viable option? What would your choice be: a car and money left over to take that vacation, earn that certificate or even top up that RRSP, or just a car with a hot badge?
Smart is in.