Hey that's my beach house!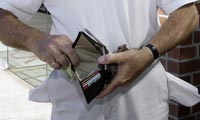 By Dawn Cuthbertson, Sympatico / MSN Finance
I've always wondered what Wall and Bay Street bankers did with their multi-million dollar salaries.
I envision secret vaults in their homes bursting with mountains of crisp dollar bills. Or private jets whisking them away to exotic places like Bora Bora for the weekend
Then I read an article in the NY Times and my bubble burst.
Turns out they're spending their salaries but it's on rather borings things. Exorbitant, but boring.
Even if you had the money, would you spend $32,000 a year to send junior to private school? I don't go to gala fundraisers but even if I did, I wouldn't spend between $10,000 and $15,000 on a dress to wear to it. What about the charity?
The article explains how difficult life would become for U.S. bank executives if their salary was capped to $500,000 a year - the amount U.S. President Barack Obama wants set for banks who accept bailout money.
I understand that living in New York City is unlike anywhere else in terms of expense, but is it really necessary to have a personal chauffeur and pay them upwards of $75,000 a year? It seems like the idea of keeping up with the Joneses has taken on a whole new meaning.
Canadian executives are taking a hit in the down economy as well. Last week, Toronto-Dominion Bank announced its chief executive, Ed Clark, is voluntarily taking a pay reduction. He will take home $8 million in compensation for 2008 instead of the $11 million allotted to him by the bank's board. The remaining $3 million will be donated to charity.
If Obama has his way, some of these bank execs will have to learn how to live on less. I wonder what they'll cut out first.