Bright lights, big city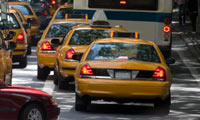 by Dawn Cuthbertson, Sympatico / MSN Finance
At 27 and still fresh in my career, my financial position can be summed up as "month-to-month."
I don't have a money-making portfolio (does anybody these days?) and certainly can't tell you what stocks to buy now or how to obtain better tax breaks. I can, however, bring you on my journey as I try to turn my modest savings account into a down payment on a home. I don't want to rent forever!
Like most Canadians, money is frequently on my mind. And with the economy in shambles and the holidays right around the corner, I can't help but question my decision to take a trip to one of the world's most expensive cities this week. One minute I'm excited and the next I wonder, "Is this a mistake?"
The reality is that I saved for my trip to New York City. And have found ways to reduce my costs. I booked a flight for $244 Cdn. (taxes included) and found an apartment rental through Craigslist for a fraction of the price of a swanky hotel.
I also checked out websites of attractions I want to visit to see if there are any savings. Did you know that New York's Modern Museum of Art is free on Friday evenings between 4 p.m. and 8 p.m.? That's when I'll be going.
So while a pair of Manolos won't be purchased on this trip, I will be looking for deals that fit my style – and budget.