Cow smuggling in India a lucrative trade, report says
The most fascinating news stories are often the ones we've never heard, and such a tale has come lately, courtesy the Los Angeles Times.
According to an in-depth feature from the paper, one of the most profitable smuggling markets has taken shape in India, where cattle are illegally exported from the primarily Hindu country across the border to Bangladesh, where the Muslim-heavy population enjoys a good cut of beef.
Hindus, as you know, honour the cow, while the animal's slaughter is outlawed in most Indian states.
For me, the smuggling rings are so interesting because they seem to make so much sense. I won't pretend to know a fraction of what I should about Hindu/Muslim relations, but – as numerous sources tell the L.A. Times – the issue is so touchy, with so many political ramifications, few authorities dare raise too much a fuss over the illegalities.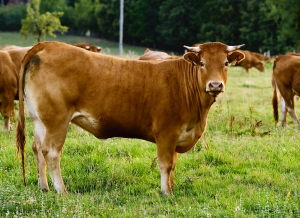 It's as if thieves, who are responsible for exporting as many as 30,000 cattle to Bangladesh, are getting a free pass.
"The border guards are in on it, both in India and Bangladesh, and take bribes to look the other way," adds a local farmer.
"Smuggling is rampant … with all the money and growing population."
Indeed, the money is there. Insiders estimate 1.5 million cows, worth up to $500 million, are smuggled from India each year. A $100 medium-sized cow in India can be worth as much as $350 in neighbouring Bangladesh, according to the L.A. Times.
Roughly 100 cattle traders and border guards are killed in each year in the at-times violent smuggling biz, sources say.
Illegal cow exporting, it turns out, is no new epidemic to India. A BBC story back in 2007 notes an initiative to provide all Indian cattle with photo IDS – one of the country's chief measures to prevent smuggling.
Though as you can imagine, the IDs aren't spectacularly effective.
"You can put a picture of your cat, dog, your elbow in the photo and no one looks closely," the farmer says.
By Jason Buckland, MSN Money