Ryanair boss says he'll donate pay-to-pee profits to charity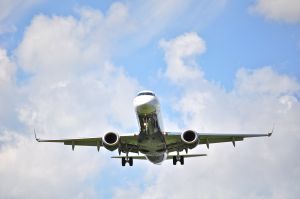 We promise, really, we're not trying to slam you over the head with this Ryanair pay-to-pee story.
But after one article last Thursday and another earlier this week, this is like the consumer story that keeps on giving. It's fascinating on top of baffling on top of mesmerizing.
Like clockwork, enigmatic Ryanair CEO Michael O'Leary is back making headlines today. Speaking at a press conference in Brussels, the company boss displayed a "No, no, you got me all wrong!" demeanour Thursday, apparently backpedalling somewhat on his polarizing move to begin charging passengers to relieve themselves onboard the budget airline's flights.
Facing criticism the world over – including several raised eyebrows into whether it's even legal to charge passengers to use a restroom 35,000 feet in the air – an exasperated O'Leary continued to maintain his pay-to-pee initiative wasn't just a cheap money grab.
"The purpose of charging for the toilets is to change peoples' behaviour," he reinforced. Ryanair has said, throughout all this, that an ideal air travel scenario would be if passengers were to use the restroom before or after flights.
"Whatever money we make on the toilets, we'll happily give it away to some charity for incontinent air-travellers," he added.
O'Leary actually seems to win back some good will here, playing the "This will save customers money" card for the first time, to my knowledge, in the airline's pay-to-pee PR disaster.

On top of charging for use of the bathrooms, Ryanair has plans to remove two of three onboard toilets to make room for six extra passengers on each of its planes.
"If I add six extra seats," O'Leary told reporters, "all the fares come down across-the-board by four per cent."
A new report from BusinessWeek has actually challenged that notion (U.S. manufacturer Boeing might be putting its foot down on retrofitting Ryanair's planes, as adding six more passengers may not meet air safety regulations), but that's far from the most staggering nugget from this story.
O'Leary also announced Thursday that, although they've since scrapped the plans, the airline once had a strategy to charge travellers based on their weight.
"We have decided we're not going to (go ahead with that plan) because there's no way of determining who's overweight and who's not," the CEO said.
Could you imagine that? Charging passengers by how skinny or fat they are! No matter how much sense this might actually make for airline/customer bottom lines, that would've caused a hell of an uproar.
Actually, I probably could've gotten three, maybe four blog posts outta that baby. Damn.
By Jason Buckland, MSN Money