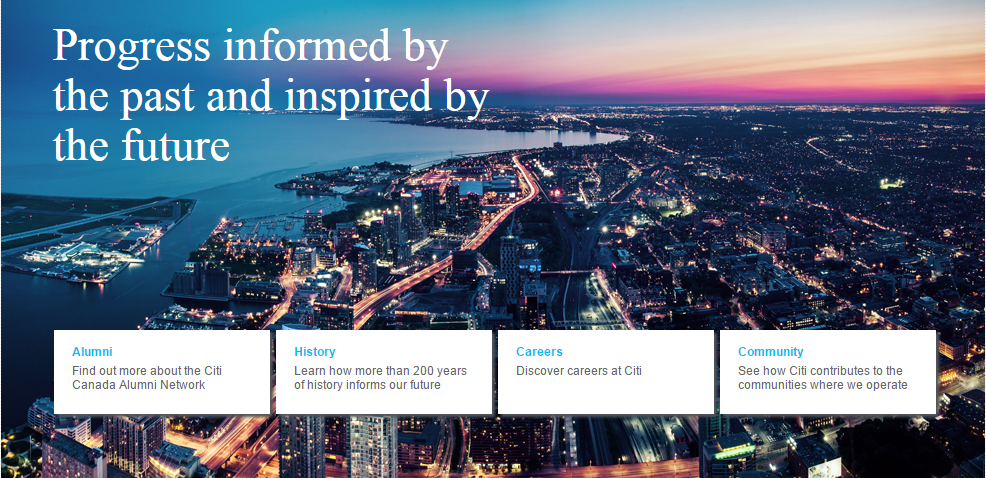 Citi Canada (French: Citi Canada) is a unit of Citigroup of New York City. With roots in Canada dating back to 1919, the Canadian unit currently employs approximately 3,000 financial services workers in a range of consumer and institutional businesses. Citi Canada is headquartered in Toronto, with offices in Calgary, London (Ontario), Montreal, Mississauga and Vancouver.
Citi's major business lines in Canada are as follows:
Citi Transaction Services
Citi Corporate and Investment Banking
CitiFinancial Canada, Inc. is committed to excellence in serving all customers and members of the public, including people with disabilities. Our commitment is demonstrated in the areas of:
Communication

- We communicate with people with disabilities in ways that take into account their disability. We train staff who communicate with customers and members of the public on how to interact and communicate with people with various types of disabilities.

Telephone Services

- We are committed to providing fully accessible telephone service to our customers and members of the public. We train staff to communicate with customers over the telephone in clear and plain language and to speak clearly and slowly.

Communications and Availability of Documents

- When providing any documentation to a person with a disability, CitiFinancial Canada, Inc. will do so in a manner and a format that takes into account the person's disability. If requested, an alternative format will be provided as agreed upon between the requestor and CitiFinancial Canada, Inc. and which takes into account the person's disability.
CitiFinancial Advantages:
Face-to-Face Service

: We have more than 200 branches across Canada - one in your neighbourhood.

A Name You Can Trust

: For more than 90 years, CitiFinancial has been helping Canadians realize their financial goals and dreams.

Save Time, Do it Online

: Free, safe and secure access to your account online.

Customer Satisfaction:

CitiFinancial has more than 250,000 customers and a 92% customer satisfaction rating!
(Based on Customer Satisfaction and Loyalty Survey for Canada, conducted by CitiFinancial, January 2014.)
Personal Loans:
Loan amount is $300-$20,000.
Loan term ranging from 12 to 60 months.
Fixed interest rates for entire loan term.
Quick online application with an instant online decision.
No prepayment penalties.
You can change your mind within 14 days with no charges, no hassles.
Who Can Qualify for a Loan?
You qualify if:
You are a resident of Canada, but do not reside in Nunavut
You have reached the age of majority in your province of residence
You have been discharged from bankruptcy for at least 7 years (if applicable)
You have some established credit history.
You have the ability to make monthly payments in order to pay off your loan.
You need the loan for personal, family or household purposes.
To qualify for a CitiFinancial Home Equity Loan, First Mortgage Loan or a Refinance Loan, you must also be the owner of the property securing the loan, and the property must be your primary home.
Interest rates are based on various factors, which include your income, credit score and payment history.​
Personal Loan Required Documents
After you apply online, CitiFinancial must verify the following information on your application:
Address
Age
Employment
Income
To verify your address and age, you will need to bring either of the -following to your local branch:
One piece of primary identification; or
Two pieces of secondary identification.
The following are acceptable forms of primary identification:
Canadian Forces Identification Card.
​Driver's license.
Non-driver photo identification card issued by one of the following provinces:
Nova Scotia.
New Brunswick.
Prince Edward Island.
Newfoundland and Labrador.
Manitoba Liquor Control Commission Identification Card.
Gun License.
Hunting License.
Permanent Residency Card.
Passport.
The following are acceptable forms of secondary identification:
Employment badge/pass with the following:
Recognized company name.
Applicant's name.
Applicant's photograph.
Government issued birth certificate.
Current Credit card or Debit Card with an embedded photo.
Current bank statement.
Notice of Assessment.
Birth certificate with a raised or embossed seal.
Utility bill.
Provincial Health Card, when applicable.
This bill MUST:
be in the applicant's name.
Income Verification.
To verify your income, you may be required to provide one or more of the following documents.
Wages:
Current pay stub.
T4 from previous year.
Notice of Assessment.
Canada Pension Plan Statement dated within past 12 months.
Self Employed:
Notice of Assessment (2 years' worth).
Other information based on the self-employed entity type.
Payment Options
Mail Payments to your Branch:
CitiFinancial Personal Loan Application Terms and Conditions
By submitting this Loan application, I acknowledge that I have read the legal information Terms and Conditions and Our Privacy Notice. I agree that the information I have given CitiFinancial on this application is complete and accurate and understand that CitiFinancial is relying on the information. I understand that if I do not provide you with complete and accurate information on this application, I will have to repay any debt resulting from this application to you even if I become bankrupt.
I authorize CitiFinancial to confirm my employment, to collect credit, personal and other information about me ("Information") from credit reporting agencies and other parties (including information as to whether I meet specific criteria), to conduct list editing (the practice of presenting a list of names and a list of criteria to a credit reporting agency to receive back a list of the names that meet the criteria) with respect to the Information, to use the Information collected and to disclose the Information collected to credit reporting agencies and other parties for the following purposes:
For a period beginning now and ending two (2) years from the latest of the date I (i) pay or (ii) otherwise fulfill all of my outstanding obligations incurred by me from time to time with CitiFinancial or (iii) my CitiFinancial account(s) are closed by me or by CitiFinancial, to determine my eligibility for the extension of credit in connection with this application and to determine my eligibility to receive other products, services and/or solicitations; to support the business relationship with me including opening and maintaining a file containing Information which Information will be kept up to date by CitiFinancial through regularly obtaining reports from credit reporting agencies and conducting other inquiries to advertise and offer additional products, services and/or solicitations of CitiFinancial or other parties that CitiFinancial believes may be of interest to me; and in connection with the collection of a debt or the fulfillment of another obligation owed by me to CitiFinancial.
For Nova Scotia residents only, in connection with your Account Application, you consent to the procurement and preparation of a consumer report in accordance with Section 11 of the Consumer Reporting Act of Nova Scotia.​
Citi Canada (French: Citi Canada) is a unit of Citigroup of New York City. With roots in Canada dating back to 1919, the Canadian unit currently employs approximately 3,000 financial services workers in a range of consumer and institutional businesses. Citi Canada is headquartered in Toronto, with offices in Calgary, London (Ontario), Montreal, Mississauga and Vancouver.…